Subscribe to stay on top of our latest content!
Share this article
Customer satisfaction is an important part of how a business should retain customers and attracts new ones through word-of-mouth referrals and positive online reviews. Nowadays, social media and review sites allow customers to publicly share their satisfaction (or indeed dissatisfaction) regarding products and services they've purchased from you, which could directly affect your business in a positive or a negative way.
But what exactly is customer satisfaction and how does it relate to long-term customer loyalty? Read on to find out more about how to retain clients through customer satisfaction and why it's important to measure it.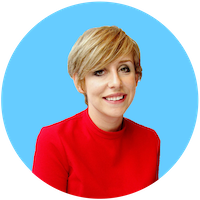 Written by Lauren Shaw
Marketing Manager
Published: 01/06/2021
What is customer satisfaction?
Customer satisfaction can be defined as the measurement of how well a product or service meets or exceeds a customer's expectations. Unsurprisingly, it's more likely that satisfied customers will make a repeat purchase from your business, tell their friends and family about your brand, and even leave you a great review online. Therefore you will retain customers. That's why it's so important to keep your customers happy. Get it right and you'll boost your brand's perception, and ultimately your bottom line.
How does customer satisfaction relate to long-term customer loyalty?
In order for a business to grow and be more sustainable, customer satisfaction is key. The more satisfied your customers are, the higher the likelihood to retain customers & business that may lead to long-term loyal customers. This allows you to build a solid revenue base and save on the costs of acquiring new customers.
What's more, satisfied customers are more likely to introduce their friends, family and colleagues to your business, and may even speak positively about their experience online. Referrals are the best form of advertising a brand can have – in the age of social media, word-of-mouth really is king.
However, if you can't deliver on your customers' expectations, it's unlikely that you'll retain customers – they may start to look elsewhere for an alternative and you run the risk of them speaking negatively about your brand.
Why is it important to measure customer satisfaction?
It's really important to measure customer satisfaction in order to know if you're on the right track, and understand how your customers feel about their purchase and the service they're received from your business. If you're not meeting or exceeding their expectations, you need to know about it and make changes to put it right before you lose out to your competitors.
You can garner so much valuable feedback by regularly checking in with your customers to gather data about their experience: you'll be able to highlight any business issues, closely monitor customer relationships, and get new ideas for potential business developments.
If you discover that you're falling short of customer expectations in a certain area, you should see it as an opportunity to find out the reasons why and apply any lessons learned to make improvements across your entire customer base. Equally, if you learn that your customers are satisfied with your business, you could incentivise them to become active promoters of your brand by offering them discounts and loyalty benefits; this will also retain customers.
How can you measure customer satisfaction?
It's important to consider multiple indicators of customer satisfaction in order to get a complete picture of how your customers feel about your brand:
Overall satisfaction: a key factor covering how fulfilled a customer feels in general regarding things like quality, value for money, service received, etc. A satisfied customer is likely to feel good about choosing your brand and tell you they're happy they purchased from you.
Loyalty/intent to repurchase: measuring loyalty and asking customers how likely they are to do business with you again is a really good indicator of overall satisfaction, repeat use, and how likely they are to refer your brand.
Brand attributes: how customers judge your business and the perceived qualities they associate with your brand is worth tracking to make sure they align with your value proposition. That way, you're much more likely to keep customers satisfied and coming back for more.
There are a number of different tools and survey types that you can use to measure customer satisfaction, including:
Customer Satisfaction Score (CSAT): perfect for assessing how your customers feel about specific experiences, and to find out what's working and what isn't so you can address any problem areas.
Customer Engagement Score (CES): useful for measuring how engaged your customers and prospects are with your business, and a good indicator of the likelihood of renewals, upgrades, and additional purchases.
Net Promoter Score (NPS): great for finding out how loyal your customers are to your brand, their intent to repurchase, and how likely they are to refer your business to other people.
When it comes to measuring customer satisfaction, it's important to regularly ask your customers how they feel about specific experiences. How often you survey your customers and how often you analyse the scores depends on your measurement goals and what you want to find out. This is so important in order to retain customers.
Generally speaking the closer to the event, the more accurate survey responses will be. For example, you might want to know how customers feel about their onboarding experience and schedule a customer satisfaction survey immediately after they become a customer.
If you want to measure something more general, such as long-term customer loyalty, you could send a survey to measure your Net Promoter Score at 6-month intervals and track your customer's thoughts and feelings about your brand.
Whatever factors of customer satisfaction you choose to measure, benchmark your score and keep repeating the survey to make sure your score is rising and you're on the right track.
Written by Lauren Shaw, Marketing Manager at FLG.
Find out how FLG can help your business
Schedule a demo and let us show you around our CRM platform
Get a demo