Subscribe to stay on top of our latest content!
Share this article
Sarah Palombo joined FLG back in 2010. As our longest serving member of staff, she really has become part of the furniture! She knows everything there is to know about FLG, and she's super proud to have seen the business grow over the years.
Grab a cuppa and give this article a read to get to know her more.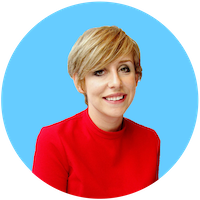 Written by Lauren Shaw
Published:
30/11/2020
Background
Sarah Palombo's first job was with an internet marketing company, which she says changed her life forever by getting her on the path towards where she is today. After that, she moved on to work in financial services for a decade before joining FLG.
Fast-forward another decade and she's still with us – she's still a spring chicken, but she lives and breathes FLG and says there's every chance she'll stay with us until she retires!
Sarah's role at FLG
Sarah Palombo is responsible for managing the people in her team, processes, and systems, but what's most important to her are our customers. The first time you meet her she'll show you around our platform and help you decide if FLG is right for your business. From then on, whether you've been an FLG customer for many years or you haven't joined us yet, Sarah is always there to advise and support you whenever you need it.
She's watched our business and the FLG product grow over the years, and she's very proud of how far we've come. But we couldn't have done it without Sarah's hard work and dedication – she's been integral to our success and the whole team are very grateful to her.
From communicating what solutions our customers are requesting to making decisions about what the product needs and how it can be improved, she always puts herself in the customer's shoes and fights for what's important to them (sometimes quite passionately, and we love her for it). She also enjoys inspecting our new features to make sure they're perfect for you before they're released.
Life outside of FLG
Sarah's high standards don't slip outside of FLG either – whether it's a spot of cleaning or making a handmade candle for her side hustle, if a job's worth doing it's worth doing right. As a colleague she's a super friendly person with a bubbly personality, but admits she can feel quite shy at times (no photos please 📸). We're not sure we believe her though, that's not what we see in the office!
Sarah Palombo lives in Lancashire near our Padiham office with her husband. They love spending time together travelling (lockdown permitting), seeing their families (including Sarah's identical twin sister 👩🏻 👩🏻) or just getting stuck into a good box set at home. They don't have any pets, but if they had it their way they'd have a chimpanzee of all things (?!) to keep them company with all the telly they watch. I think this family is made for Gogglebox!
We're lucky to have you Sarah! Thanks for everything you do for FLG.
Written by Lauren Shaw, Marketing Manager.